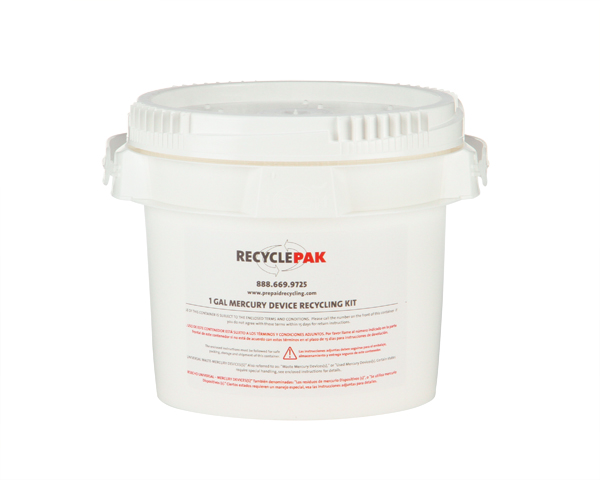 360° view
Recycling Container Specifications
SKU

DESCRIPTION

CONTAINER SIZE

UN RATING

DESCRIPTION

CAPACITY

SUPPLY-066

1 GAL UW MERCURY DEVICES RECYCLING PAIL

1 GAL -

Inside top diameter: 7.5"

Inside bottom diameter: 6.625"

Inside height: 6.9"

1H2/Y6/S/XX*

UN-RATED, DOT APPROVED 1 GAL CONTAINER WITH LOCKING LID, 4 MIL POLY LINER, LINER TIE, INSTRUCTIONS, TERMS AND CONDITIONS, PROOF OF PURCHASE, PREPAID RETURN SHIPPING WITH LABEL, RECYCLING AND ONLINE CERTIFICATE OF ACCEPTANCE FOR RECYCLING.

13 LBS. OF INTACT MERCURY DEVICES, INCLUDING BUT NOT LIMITED TO THERMOSTATS, THERMOMETERS, BLOOD PRESSURE GAUGES, RELAYS AND SWITCHES.
 
Individual Shipping Weight: 2 LBS
Master Shipping Carton QTY: 8
Master Shipping Case Size: 21"x21"x21"
Master Shipping Carton Weight: 19.85 LBS
Notes: MAXIMUM 1LB ELEMENTAL MERCURY IN INTACT DEVICES INSIDE CONTAINER. BILINGUAL- ENGLISH AND SPANISH
UPC Code Individual: 094922122018
UPC Code Case: 094922122025
livechat